TARA stands strong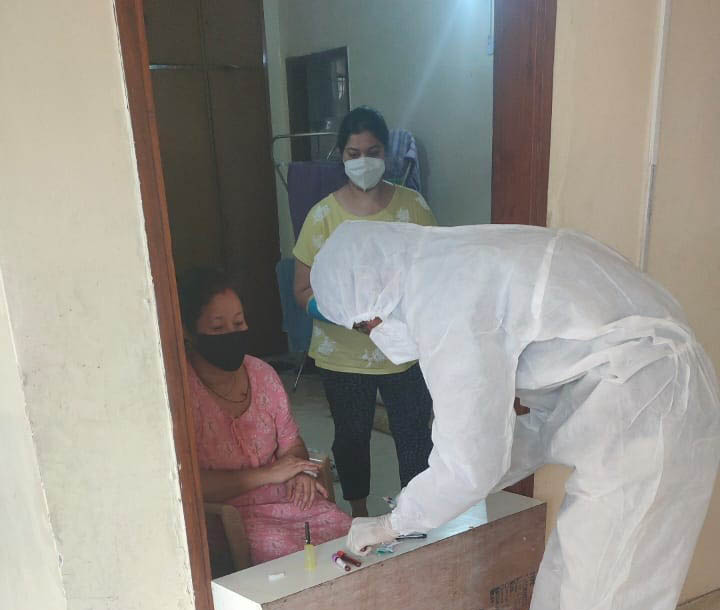 It is all over the news: a new wave of coronavirus with unprecedented intensity has adversely hit India and the situation is frightening. As of 27th April 2021, India counts 350,000 new COVID cases every day whereas Delhi itself records an average of 25,000 daily cases and faces alarming oxygen supply shortage. Hospitals are overburdened, sending SOS messages, and health care staff are urging us to stay at home. Well wishers of TARA worry and we are anxious too.
TARA made it through the struggles of 2020, by putting in place an efficient and quick response to the sanitary crisis, leveraged by the exceptional commitment of the team. In March 2021, we found ourselves proud but rather exhausted and we could foresee that the months to come would not be easier, as we had wished them to be. Quite honestly, we were not emotionally ready to confront a greater spread of coronavirus.
Yet, once the force of the new wave became obvious, everybody in TARA brushed away their tiredness and geared up to face the situation. In other words, despite increasingly challenging and stressful circumstances, TARA stands strong.
We have been severely affected, so much so that within a week, 44 children and staff members in TARA were tested positive. As a family or a community would do, we are looking after each other, following a strict sanitary protocol, trying to keep everyone safe and to help the sick ones recover quickly.
In practical terms, TARA Boys and TARA Girls have been put under quarantine and a team of caregivers are staying with the children 24/7. The premises have been divided so as to maintain an isolation area and we managed to get each and every person who had symptoms or was at high contact risk tested, including our staff's relatives. We have arranged all the safety equipment required for the homes and the outreach activities. However, we are in constant need of additional material due to the intensity of the contagion. With the generous support of three families, we were able to get one oxygen concentrator delivered to TARA, which is currently used for one of our dear nannies whose oxygen level had severely dropped. A lifesaver!
The children, so far, are recovering without oxygen assistance. Most of our colleagues who were tested positive are also getting better. We are looking into facilitating access to vaccination for our team and we hope that it will become possible in the near future.
Very fortunately, most of us have not suffered from severe symptoms so far and we wish from the bottom of our heart that no one else will.
On the other hand, we are extremely concerned for the people of Saidulajab, from where our community-based program operates. TARA Outreach Centre had to sadly shut its doors for a second time in April 2021 because of the lockdown imposed by the state government, which is believed to stay in place for a long time. Nevertheless the team is once again adjusting its services to the most urgent needs: health, food, and peace within the families. The community has not reported grave health issues but, without income, most families cannot provide for their daily needs. A few families cannot survive without immediate support while the others can sustain themselves for only a couple more days. We are hopeful that we will be able to resume a weekly distribution of essential food and hygiene products by the end of the week.
In the end, TARA stands strong because of its unity. All resources are mobilized and we have the support of doctors, sponsors, and authority representatives. The whole team came together, fuelled by a sense of responsibility and an understanding of the emergency, to fight and overcome the struggle. Like the Superhero Hulk, when he pumps up incredibly stronger, as the kids would say.
The staff are putting their own needs, comfort, and fears aside to protect the children they look after. Caregivers are attending to COVID infected children with patience and affection, fundraisers try their best to finance our medical and food supply, Covid positive staff are expressing their wish to recover fast to join the team effort. We all are confident that this is how we got through the first wave of the pandemic and this is what we shall repeat with stronger commitment the second time round.
In this very uncertain and fragile period, there is one thing we know: by seeing how the adults around them become capable of facing such challenges, with calm and solidarity, the children will understand that it is with courage, humility and generosity that we can achieve great things and overcome the harshest times.
We are very thankful to each of you who reached out to us to offer their help. We definitely need your support, in these very challenging times.
Together, we shall overcome.
Basanti Caroline ROUBLIN, Executive Director of TARA.
Contact us give(a)taraindia.org or call on +91 9599336684.
Posted on 28 April 2021